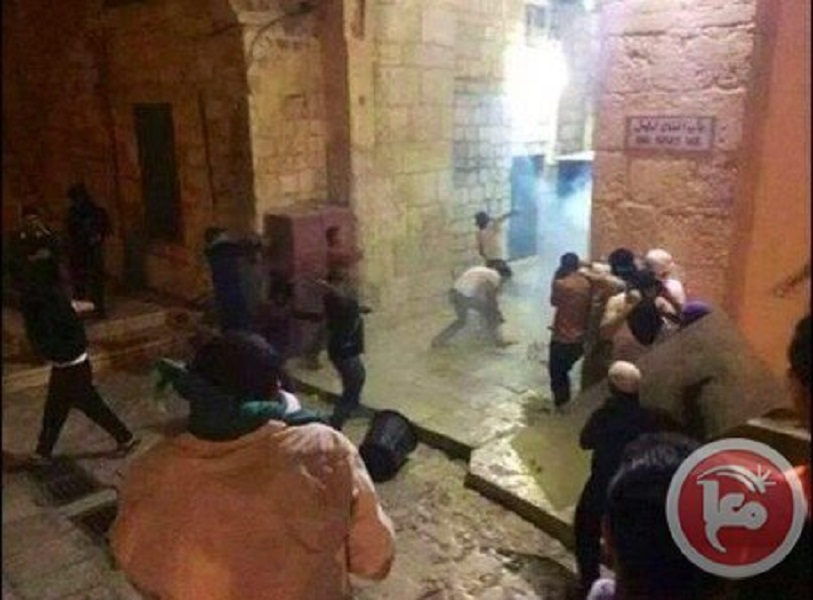 JERUSALEM (Ma'an) – Clashes broke out in East Jerusalem as Israeli police barred Palestinian men under 50 from entering the Al-Aqsa Mosque on Friday, the last Friday of Ramadan, a day the holy site is typically packed with worshipers.
Confrontations between Palestinians and Israeli police are ongoing at Hatta Gate and Council Gate, two of the entrances to the mosque, a Ma'an reporter said.
Earlier Friday, a Palestinian youth was seriously injured after being hit by a rubber-coated bullet in the head near Al-Aqsa.
The youth was taken to Hadassa Ein Karem for treatment.
Demonstrators marched from East Jerusalem toward the Old City late Thursday, but were met by Israeli police officers, who fired rubber-coated bullets, stun grenades, tear gas, skunk water, and pepper spray.
Store owners in the area closed their shops after Israeli forces hit them with skunk water, a foul-smelling liquid often used to disperse protesters.
Palestinians were able to breach the police barriers at entrances to Al-Aqsa, and hundreds entered the compound.
At least 40 Palestinians were injured by Israeli forces during the clashes across Jerusalem.
Israeli police detained 40 Palestinians overnight, police spokesman Micky Rosenfeld tweeted.
"Throughout last night's disturbances in Arab neighborhoods in Jerusalem, police arrested 40 Arab suspects," he said.
He added that 29 policemen were lightly injured in clashes.
Thursday night marked Laylat al-Qadr, or Night of Destiny.
Last Ramadan, hundreds of thousands of Palestinians prayed in the compound to mark the night, the head of the Al-Aqsa Mosque said in a statement.
Clashes across West Bank
Over 20,000 Palestinians marched toward Qalandia checkpoint near Ramallah late Friday, clashing with Israeli forces in protest of Israel's deadly offensive on Gaza.
Israeli forces shot live fire, rubber-coated bullets, and tear gas at protesters, who threw rocks and rolled burning tires at the soldiers.
One Palestinian was killed by Israeli fire, another declared "clinically dead" from a bullet wound, and over 100 others were injured by Israeli bullets.
Meanwhile, smaller protests took place across the West Bank.
In Abu Dis, dozens attempted to break holes in Israel's separation wall.
A Ma'an reporter said hundreds of Palestinians marched from central Nablus marched towards Huwara military checkpoint, where clashes erupted with Israeli forces.
More than 20 Palestinians suffered from tear gas inhalation.
In Qasra village south of Nablus, four Palestinians were hit by live bullets in their lower extremities during a protest.
In Sabastiya village west of Nablus, three youths were injured with live fire.
Additionally, Palestinian youth was injured by Israeli bullets in Qarawat Bani Husan village in Salfit.
In Tulkarem, seven Palestinians were injured by rubber-coated steel bullets.