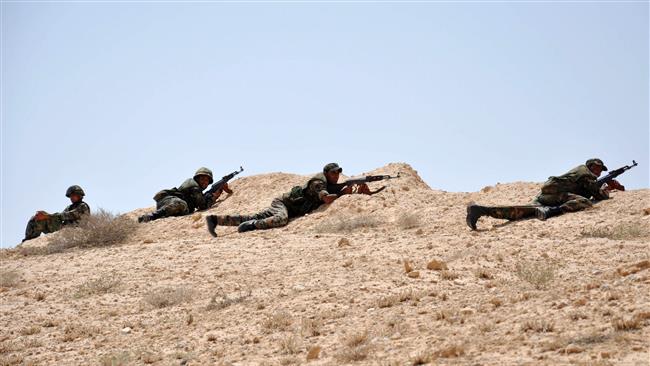 Syrian government forces have made further military progress in its bid to recapture the ancient city of Palmyra, reopening a major route for oil and gas supply to the capital Damascus.
The al-Watan daily reported on Monday that the army has intensified its operations against the Takfiri ISIL group in Palmyra and its vicinity, making "tangible progress" in the area of west Biyarat.
The so-called Syrian Observatory for Human Rights also confirmed the army's progress in the area, saying army forces and pro-government fighters clashed with ISIL Takfiris on the road connecting the city of Homs and Palmyra.
"This weekend, the regime ousted IS jihadists from al-Biyarat and is now about 10 kilometers (six miles) from Palmyra," the  director of the UK-based group, Rami Abdel Rahman, said.
He added that the situation on the ground suggests that Syrian government forces are preparing to liberate the ancient city.
Abdel Rahman said retaking the west Biyarat area by the army allows the Syrian government to "secure a transport route for oil from the Jazal field to other Syrian cities.
Jazal field, which lies about 20 kilometers northwest of Palmyra, was retaken from ISIL last week.
World heritage site
The UK-based group said on Sunday that the Takfiri group had planted explosives at the site of the Roman ruins in Palmyra. It speculated that the mines had been laid either "to blow up the ruins or to prevent" Syrian forces from advancing into the town.
UNESCO, the UN cultural agency, has announced that the demolition of the world heritage site would be an "enormous loss to humanity."
ISIL forces occupied the ancient city of Palmyra on May 21, promptly raising fears that the terrorists would once more destroy historic world heritage sites and artifacts there, like they did months ago in the city of Mosul, Iraq.
(Press tv)