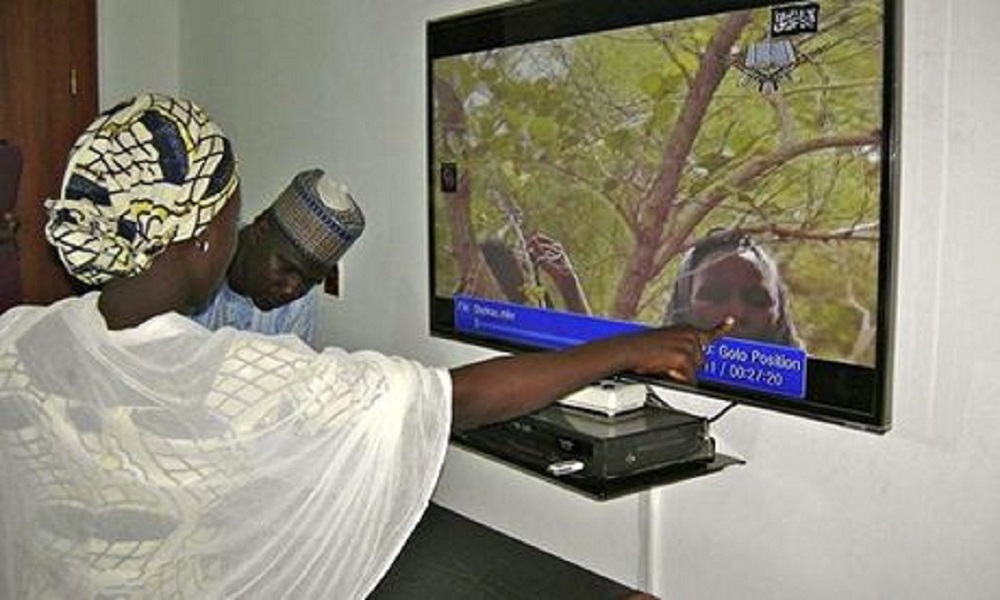 (THE GUARDIAN) – Relatives of more than 200 Nigerian schoolgirls who have been missing for more than a month after being kidnapped by Islamic militants have voiced anger and despair after the country's president cancelled a visit to their home town, citing security concerns.
As the international effort to find and rescue the girls gathered momentum, with military and intelligence resources from the US, UK, France, Israel and Canada pouring into Nigeria, and the #bringbackourgirls social media campaign exceeded 1m tweets, there was mounting criticism of President Jonathan Goodluck's slow response to the crisis.
In Chibok on Friday, the home town of the missing girls, families said they had lost faith in the government to do everything possible to rescue their daughters, sisters and nieces. In Washington, a senior US official admonished Nigeria's failure to tackle the insurgency.
Many relatives had gathered at the Chibok government girls secondary school, from which the teenagers were abducted in a night raid on 14 April, to greet Jonathan on his first visit to the area during the crisis.
"You begin to question what could be more important to the president than the lives of these students," Dr Allen Manasseh, whose 18-year-old sister Maryamu Wavi was abducted from the school, told the Guardian.
"The parents were hoping he would come with some information for them about where the girls may be and what efforts are being done to recover them, but instead to be told he is not coming was not easy for them. It's not an easy thing to have a missing child."
He said the families were upset that it had taken more than a month for Jonathan to schedule a visit to Chibok, but that to have promised to come and then postponed without adequate explanation had further diminished their faith in the authorities.
Bulus Mungo Park, a civil servant volunteering with a local vigilante force protecting Chibok from Boko Haram and the uncle of two missing girls, said the villagers were extremely disappointed.
"The parents were happy that our president would come and see for himself. He was our last resort," he said. "And now we don't know what is happening. We're hoping he can still come some time."
Following the release of a video by Boko Haram earlier this week, showing around 130 of the abducted teenagers, Mungo Park escorted a group of girls who had managed to escape and relatives of those still missing to the nearby town of Maiduguri to identify the captives.
"They were able to identify about 75 by name," he said. The faces of other girls were known to their school colleagues. "Soon we will know all their names."
Manasseh said his sister was not among the girls in the video released. "It makes me very worried for her because I do not know whether she is alive or where she might be."
A leading Nigerian politician claimed Boko Haram blundered and handed the search mission a golden opportunity when it released a video of the captured girls because it contains significant clues to their whereabouts.
Rabiu Musa Kwankwaso, a former defence minister who has spent years combating the militant group, said: "On TV they are exposing themselves to an intelligent military. Anyone who is familiar with this area can pinpoint the place. Terrorists who are clever put white cloths behind them but in this one you can see the location of the children in Sambisa forest."
He added: "We have people very well trained. A layman will tell you that all of the clues are there. A tree that I saw there is special: it's not a tree you find in many places."
Kwankwaso is now governor of the northern Kano province, the scene of one of Boko Haram's deadliest attacks, and tipped as a possible challenger to the president in next year's elections. He was scathing about Jonathan's response to the present crisis.
"The issue is on CNN, Sky News," he said. "All the international stories are helping us to remind him that what is happening is very significant in Nigeria.
"To him it was nothing. They wanted to sweep it under the carpet like nothing happened. But if everybody is talking about it, it is an issue. I have never seen in the history of the world where more than 200 people are kidnapped and it is not an issue."
Kwankwaso challenged the president: "Yes, you inherited the problem, but what did you do when you came in? You have had five years on the throne. Five years is enough to make a difference. In 2015, by grace of God, he should get out of the [presidential] villa."
Relatives and activists have raised fears that the girls could be intended as sex slaves for the militants, or trafficked to other countries. However, the Nigerian government has said it believes the girls are still within the country's borders, most likely hidden in the Sambisa forest.
Mohammed Dunoma, the chairman of the local parent-teacher association, told the Guardian earlier this week that many villagers were now reluctant to allow their daughters to go to school. Boko Haram, whose name means "western education is sinful", was an ever-present threat, he said: "We don't know when they will come."
The area is a stronghold of Boko Haram. Insurgents killed at least four soldiers in an ambush on Monday.
In Washington, a senior US official criticised inaction by the Nigerian government. "In general, Nigeria has failed to mount an effective campaign against Boko Haram," Alice Friend, the Pentagon's principal director for African affairs, told the Senate foreign relations committee. "In the face of a new and more sophisticated threat than it has faced before, its security forces have been slow to adapt with new strategies, new doctrines and new tactics."
She added: "We're now looking at a military force that's, quite frankly, becoming afraid to even engage."
Dampening hopes of an imminent breakthrough in the internally backed search mission, state department spokesperson Marie Harf said military and intelligence teams faced "a tough challenge".
The US has deployed manned and unmanned surveillance aircraft over the area. According to the New York Times, 30 specialists from the state department, FBI and Pentagon, with medical, intelligence, counter-terrorism and communications expertise, have been sent to Nigeria.
Jay Carney, a White House spokesman, said there would be no active deployment of US forces in Nigeria. "At this point, we're not actively considering the deployment of US forces to participate in a combined rescue mission," he told reporters.
Chuck Hagel, the US defence secretary, told CBS News it was an open question whether Nigerian forces were capable of rescuing the girls. "We just don't know enough yet to be able to assess what we will recommend to the Nigerians, where they need to go, what they need to do, to get those girls back," Hagel said.
US general David Rodriguez met Nigerian officials in Abuja this week, as did British Foreign Office minister Mark Simmonds. Canada announced it had sent special forces to Nigeria, and Israel also joined the search and rescue mission.
Jonathan was due to fly to Paris on Friday for a summit hosted by François Hollande, the French president, to discuss the security threat posed by Boko Haram. Nigeria's neighbours – Benin, Cameroon, Niger and Chad – were expected to attend, along with US, UK and EU representatives.
A social media campaign over the kidnapped girls has won global backing, with more than 1m tweets under the hashtag #bringbackourgirls. High profile endorsements have come from Michelle Obama, Angelina Jolie and Malala Yousafzai.
FONTE: THE GUARDIAN