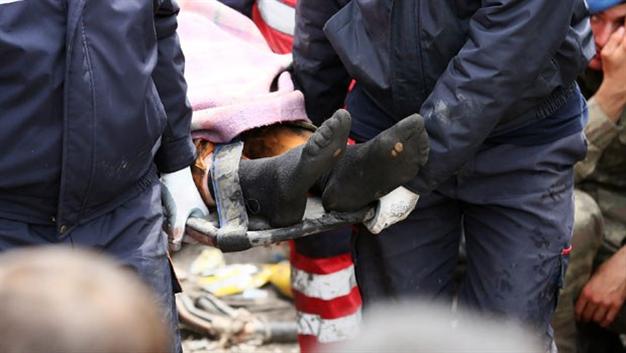 (HURRIYDAILYNEWS) – At least 282 coal miners were killed in a mine in the western Turkish province of Manisa's Soma district on May 13 after a fire broke out following an explosion at a power distribution unit, according to the latest figure given by the Energy Minister Taner Yıldız in the morning hours of May 15. The death toll has climbed throughout May 14 along with the tension as the sorrow felt for the losses has also manifested in anger against the authorities.
"We are moving toward the worst mining disaster in Turkey," Yıldız said at 10:22 a.m. on May 14 while dozens of workers are feared to be still trapped inside, according to reports.
Until the Soma disaster, the deadliest accident in Turkish mining history occurred in a facility in the Black Sea province of Zonguldak's Kozlu district in 1992 due to a pit gas explosion that left 263 people dead.
The government declared three days of national mourning and clashes erupted in the evening in Istanbul, Ankara, but also in Soma, the epicenter of the sorrow and rage.
Here are the live updates:
May 15, 8.15: Energy Minister said the death toll has further climbed overnight to 282 while hopes are diminishing for the dozens of workers still trapped in the coal mine. "There haven't been any worker rescued alive in the last 12 hours," Yıldız said. Some 217 bodies have been delivered to the families, he added.
23.00: Clashes between police and smaller groups on the Asian side of Istanbul rekindled.
22.30: Energy Minister Taner Yıldız announced that the death toll had climbed to 274. Özgür Özel, an MP from the main opposition Republican People's Party (CHP), claimed that around 350 workers died.
22.00: With the death toll standing at 245, with around 120 workers still trapped in the mine, protests throughout Turkey have slowed. Several people have been detained during the evening protests in Istanbul, but the mourning-turned-rage has also given way to calm again in the mining town.
21.36: From Adriana Lima to Eva Longoria, celebrities have sent sympathy messages after the Soma disaster. (Click here to read the full story)
20.57: Many protesters are back in Taksim after being dispersed by the police. The security forces, though, are in control, in support of eight special water cannon vehicles, or TOMAs.
20.43: The heavy-handed response of the security forces against the initial protests in Soma might be a factor for the mourner-turned-protesters. A photo showing Yusuf Yerkel, one of the advisers of Prime Minister Erdoğan, kicking a disgruntled mourner in the town, has been widely condemned by anti-government figures on social media. Yerkel defended his conduct, arguing that the man was a leftist militant who came to Soma from another town. "He assaulted me and insulted me, as well as to the Prime Minister. Should I keep silent?" Yerkel said.
20.20: A member of the rescue team claimed during his interview with CNN Türk anchorman Cüneyt Özdemir that there are still 200-250 more bodies in the mine. "Carrying them out is hard. After waiting for too long, bodies swell and get heavier," he said.
20.00: Police intervene to disperse hundreds of mourners and protesters gathered near Taksim Square. (Photo: CNN Türk correspondent Ezgi Cankurtaran).
19.42: Police repeatedly use tear gas in Ankara to disperse protesters.
19.10: Erdoğan faced more protests after his press conference and was even forced to seek refuge in a supermarket by his bodyguards until the situation cooled down, another video shows. Part of the crowd chanted and called on Erdoğan to step down as he was entering the supermarket. (Click here for the full story)
18.47: The death toll climbs to 245, Energy Minister Yıldız says in a press statement.
18.37:  Tensions in Soma continued after Prime Minister Erdoğan's press statement. An angry group attacked the district headquarters of the ruling Justice and Development Party (AKP), damaging the building.
17.30: Police have closed Istanbul's Gezi Park after calls for protests following the mining disaster in Soma. The park, which was at the heart of last year's anti-government protests, is usually closed as a "preventive measure" ahead of demonstrations in the city's Taksim area.
16.40: A group of people protested Prime Minister Recep Tayyip Erdoğan while he was leaving the Soma Municipality building after a press conference, calling on the government to step down over the disaster. Erdoğan was even forced to seek refuge in a supermarket by his bodyguards until the situation cooled down. Part of the crowd chanted and called on Erdoğan to step down as he was entering the supermarket.
16.17: Turkish Prime Minister Recep Tayyip Erdoğan has cited decades-old – if not centuries-old – examples to defend his government over its mining record, pointing to a mine accident in Britain in 1838 during a press conference in Soma. Erdoğan said labor accidents are "usual things." (Click here for the full story)
15.54: Death toll climbs to 238, Prime Minister Erdoğan announces, adding that other 120 are believed to be trapped in the mines according to the figures given by the mine operator.
15.48: Graves have been dug in a cemetary near the mining facility in Soma to bury the victims of the deadly explosion. In this Reuters picture, a man is seen praying after the death of a relative, while others dig new graves.
15.11: Relatives of trapped miners remain in the Mobile Coordination Center near the mine, browsing photos of the corpses to see if their beloved ones are one of the bodies recently pulled out of the galleries.
14.33: The official death toll has climbed to 232, Prime Minister Erdoğan told reporters.
14.18: In Ankara, police resorted to tear gas and water cannon to prevent a group of Middle East Technical University (ODTÜ) students from marching to the Energy Ministry to protest the mine disaster. A standoff at the entrance of the campus between students and security officers is continuing, as police are blocking the exit.
14.10: Pop star Rihanna has also shown her solidarity by changing the background picture of her Twitter account in memory of the Soma coal mine disaster victims.
14.02: One minute's silence has been held at the Turkish Parliament's General Assembly.
14.00: Pope Francis has also expressed his condolences, making an appeal for prayer for the miners who lost their lives during his General Audience. "Dear brothers and sisters, I invite you to pray for the miners who died in the mine yesterday in Soma, Turkey, and for those who are still trapped in the tunnels. May the Lord receive the deceased in His house and give comfort to their families," Pope Francis was quoted as saying by Vatican Radio.

13.50: Israel offered Turkey assistance for rescue of the miners. (Click here for the full story)
13:39: Turkey's disaster response agency, AFAD, has published a list of the names of 88 miners who have been taken to hospital after being rescued from the mine. Among them, 63 have been discharged from hospital, while 25 are still being treated, according to AFAD's statement.
13.34: Main opposition Republican People's Party (CHP) Manisa deputy Özgür Özel has claimed that the actual death toll is "around 350," daily Hürriyet reported.
12.51: All sports events have been postponed in Turkey due to national mourning.
12.39: A group of protesters in Soma chant "Murderer state," according to live footage from Doğan News Agency.
12.09: Main opposition Republican People's Party (CHP) leader Kemal Kılıçdaroğlu called for a calm assessment of the massive loss of life in the disaster before departing Ankara on May 14 for Soma. A CHP motion on mine accidents in Soma was rejected by the ruling AKP two weeks ago. (Click here for the full story)

12.01: A number of people play dead at Taksim metro stop to protest the disaster.
11.52: Frank Ricciardone, U.S. ambassador to Turkey, has conveyed a message of condolence from the American people to the Turkish people through Twitter. (Click here for details and other reactions from the world)
11.47: Erdoğan has arrived in Manisa.

11.38: A group of youths protests the operator of the mine where more than 200 workers died after an accident on May 13 in front of the company's headquarters in Istanbul, writing "Murderers" on its wall. (Click here for the full story)

11.22: "Superiors whose arrest is sought over mining disaster are dead," prosecutors say. (Click here for the full story)
11.10: President Abdullah Gül has canceled an official visit to China and will go to Soma on May 15.
11.01: Prime Minister Recep Tayyip Erdoğan, who is expected to visit Soma today, has also canceled his programs in Istanbul and Malatya scheduled for May 17.
10.47: Council of Europe Secretary General Thorbjorn Jagland was one of the first foreign leaders to express condolences. (Click here for details and other reactions from the world)

10.13: The government declared three days of national mourning on May 14 over the mining disaster. (Click here for the full story)

09.44: Israel's national day reception in Ankara has been canceled over the mine disaster in Soma. (Click here for the full story)

09.17: "The government ignored warnings and miners paid the bill with their lives." (Click here for an analysis by Murat Yetkin)

08.58: Footage shows workers trying to escape from deadly disaster at Soma mine. (Click here to watch the video)
08.37: The owner of Soma Holding, which controls the coal mine, said in an interview two years ago that they managed to significantly reduce costs after acquiring the mine from the state. (Click here for the full story)
08.21: Turkey has long been a graveyard for miners. (Click here for the full story)
08.03: Click here to read about the world's deadliest coal mine disasters.

07.26: Six workers rescued from Soma mine 18 hours after deadly explosion. (Click here for the full story)