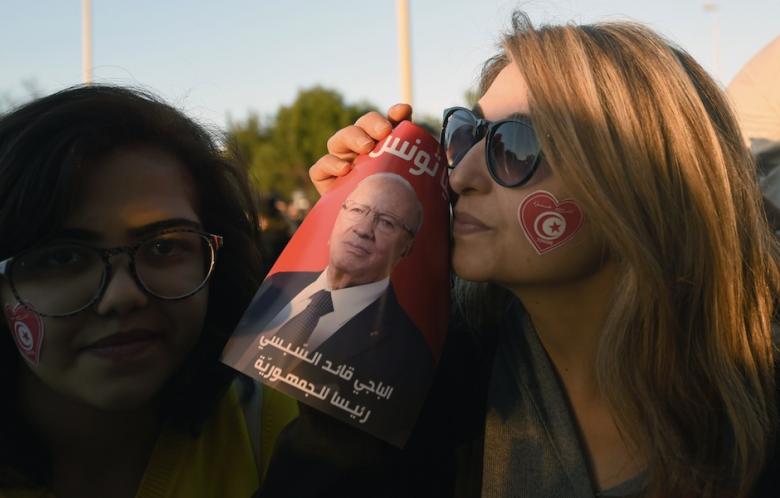 Tunisia's presidential vote has been hailed as a landmark, but some veterans of the 2011 revolution fear the victory of an 88-year-old from the old guard will bring a return to repression.
For his opponents, Beji Caid Essebsi's win in Sunday's runoff against incumbent Moncef Marzouki soured what was seen as the culmination of the transition to democracy in the nation that sparked uprisings across the Arab world.
The result "reverses the course of history," said Samir Ben Amor, a lawyer and member of the executive committee of Marzouki's Congress for the Republican party.
Essebsi's opponents have accused him of seeking a return to the era of toppled dictatorship Zine el-Abidine Ben Ali, who clung to power for 23 years, combining repressive rule with a certain degree of stability for his people.
Marzouki, a dissident who lived in exile in France for many years, presented himself as the guarantor of freedoms and defender of the revolt that ousted Ben Ali in January 2011.
During his campaign, he repeatedly warned against the danger of electing Essebsi, an anti-Islamist lawyer who held key posts under Habib Bourguiba, the "father of Tunisian independence," as well as Ben Ali.
Essebsi's Nidaa Tounes party also includes many members of Ben Ali's old party.
"It's really disappointing," Nejd Ben Hamza, a 34-year-old engineer, said of the presidential vote, lamenting the "short memory" of Tunisians.
"Wasn't Essebsi interior minister under Bourguiba? Didn't he support Ben Ali? Is the crowning moment of the youth revolution, four years later, the election of an 88-year-old?," he said.
"Tunisians have made sacrifices so that finally one of the old guard is going to lead the country," said Ben Hamza, alluding to the roughly 300 people killed during the December 2010-January 2011 revolution.
Essebsi sought to allay such concerns on Monday, saying he was in favor of "completely turning the page on the past."
He accused Marzouki of representing the Islamists, whom he said have "ruined" the country since the revolution.
Extreme Islamists have claimed the 2013 murders of two secular politicians that had threatened to derail Tunisia's post-revolution transition until a compromise government was formed in January this year.
Essebsi's victory reflected the position of many voters who are merely seeking a return to stability after a sometimes chaotic transition.
Fears for liberties
The victory of Essebsi, who won 55.68 percent of votes in the second round, has left Marzouki supporters bracing for a reversal of post-revolution freedoms.
"I really fear for our liberties, especially as the same political party will have such overarching powers," said Ali Troudi, a 39-year-old teacher.
Essebsi's Nidaa Tounes won landmark legislative elections in October and is set to form the next government.
"Essebsi talks about counter-terrorism and the prestige of the state," said Troudi. "I'm afraid of a return to repressive practices in their name."
He said he was harassed under Ben Ali for going to the mosque for dawn prayers, making him a target for the old regime which repressed Islamists.
Troudi said that while he did not share Marzouki's ideology, the fact that this "democrat to the core has defended my freedom made him the right person for the next phase," and said he was "the only one able to bring everyone together whatever their cultural, political or even religious differences."
Supporters of the outgoing president fear that Tunisia's media will be largely deferential to the new leadership, as they were to Ben Ali.
"The media won't be tough on the new president and his party. On the contrary, they will be complicit and that makes me seriously worried about freedoms," said Ben Amor, who thinks the influence of the old guard on the media sector "is one of the reasons for Essebsi's victory."
Throughout his three years as president, Marzouki maintained tense relations with the press.
His camp has accused the media of bias towards his rival and of spreading "rumors and lies" about Marzouki.
But "the fight goes on and we will never give up," vowed Ben Amor.
Security situation improves
Calm returned on Tuesday to several parts of Tunisia that saw violent protests one day earlier after Essebsi was declared the winner of Sunday's vote.
According to Anadolu Agency reporters, calm was restored in the southeastern provinces of Gabès and Tataouine and in Tunis province's town of Le Kram, where protests had broken out Monday against Essebsi's victory.
In Tataouine, protesters set the office of Essebsi's Nidaa Tounes party ablaze, while demonstrators torched security facilities in the town of El Hamma in Gabes, where they clashed with security forces, injuring at least 13 policemen.
Tunisian police fired teargas in the southern city of al-Hamma to disperse an estimated 300 to 400 of protesters who burned tires and blocked streets to demonstrate against Essebsi's victory speech, residents said.
Moreover, just hours before polling began at 8:00 am, troops guarding ballot papers in the central region of Kairouan came under attack and shot dead one assailant and captured three.
(AFP, Anadolu, Al-Akhbar)
Fonte: http://english.al-akhbar.com/content/tunisians-fear-return-ben-ali-era-after-essebsis-victory