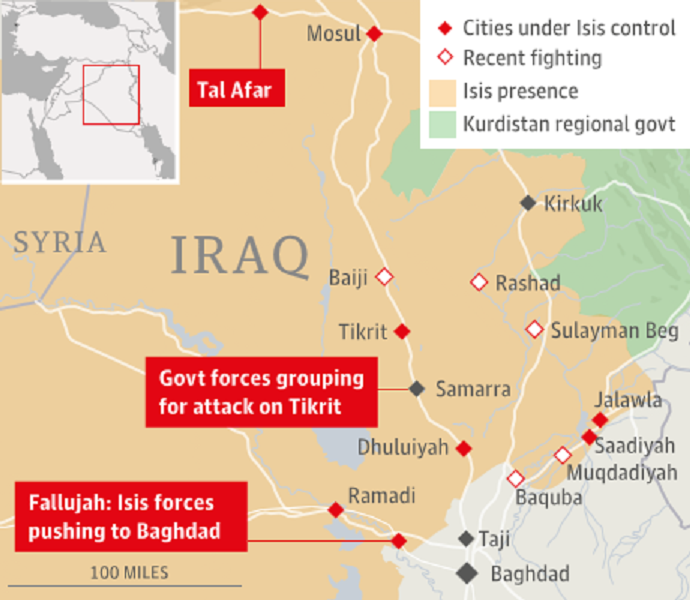 (THE GUARDIAN) – The US and Iran are poised to enter into a potentially groundbreaking military cooperation to halt the advance of Sunni extremists fighters in Iraq, in a desperate effort to halt the country's slide into a sectarian civil war.
The US secretary of state John Kerry announced on Monday that Washington is willing to talk to Tehran over the deteriorating security in Iraq. Asked specifically about possible military cooperation with Iran, Kerry said he would "not rule out anything that would be constructive".
His remarks, which raise the prospect of military coordination between the two adversaries, came as US and Iranian diplomats met in Vienna for nuclear talks that are likely to be overshadowed by the security situation in Iraq. US officials confirmed that cooperation between Washington and Tehran could be discussed on the margins of Monday's talks.
Fighters from the Islamic State in Iraq and the Levant (Isis) have rapidly advanced through mostly Sunni areas of Iraq in recent days, capturing several cities. It was reported on Monday that they had taken Tal Afar, another northern Iraqi town.
On Sunday, the insurgent fighters posted images purporting to show the execution of hundreds of Shia fighters.
More than a decade after the US invasion, there is concern that Iraq is once against unravelling, and that Iraq's military has so far proved incapable in the face of several thousand Isis fighters.
Kerry said the US was "open to discussions" with Iran to help contain the violence that has spread across the Iraq in an interview with Katie Couric of Yahoo News.
"We're open to discussions if there is something constructive that can be contributed by Iran, if Iran is prepared to do something that is going to respect the integrity and sovereignty of Iraq and ability of the government to reform," Kerry said.
US president Barack Obama on Friday signalled his reluctance to engage militarily in Iraq without a commitment from Iraqi prime minister Nouri al-Maliki to reforms that would help heal his country's deep sectarian divisions.
The White House is currently in urgent talks with officials from Maliki's government that will be instrumental in determining whether Obama launches air strikes against Isis fighters in Iraq, and possibly Syria.
"They are not the whole answer, but they may well be one of the options that are important to be able to stem the tide and stop the movement of people who are moving around in open convoys and trucks and terrorizing people," Kerry said of air strikes in Iraq.
"When you have people murdering, assassinating … you have to stop that, and you do what you need to do – if you need to try to stop it from the air or otherwise."
The prospect of diplomatic, let alone military, cooperation between Washington and Tehran over the chaos in Iraq would would be a dramatic turnaround for the two rival powers, whose relations, frozen for several decades, have only begun to thaw over the past year.
Military experts say any US air strikes in Iraq would will be impeded by the lack of intelligence from the the ground. An Iranian offensive, by contrast, would be expected to involve elite forces of ground troops that would engage in direct combat with Isis fighters, gaining a detailed knowledge of the battle lines.
Iran's president, Hassan Rouhani, has not ruled out working with the US against Isis in Iraq. "We can think about it, if we see America starts confronting the terrorist groups in Iraq or elsewhere," he told a press conference on Saturday.
The prospect of collaboration between the Washington and Tehran will almost certainly be discussed in Vienna, where top Iranian and US officials are meeting for the latest round of nuclear talks. However, the US is playing down suggestions the crisis in Iraq could disrupt the nuclear discussions or lead to a fundamental realignment in relations between the US and Iran.
Washington has dispatched some of its most senior White House and State Department officials to Austria, including the top deputy secretary of state, William Burns. He is scheduled to meet Iran's foreign minister Mohammad Javad Zarif and EU foreign policy chief Catherine Ashton on Monday.
Their meeting kicks off five days of negotiations between Iran and the six world powers collectively referred to as "P5+1".
Before arriving in Vienna, Zarif spoke by telephone with the British foreign secretary, William Hague, about the possible role Iran could play in easing the conflict in Iraq.
Any substantial conversation about cooperation in Iraq would be highly unusual, and contrast with the US refusal to allow Iran to be part of peace talks over the civil war in Syria. It could have major regional repercussions and would be likely to infuriate Saudi Arabia.
A senior US administration official, speaking to reporters on the condition of anonymity, said Washington and Tehran had previously held discussions over Afghanistan and communicated on other issues at the United Nations.
"There have been times when it made sense to be part of a conversation," the official said, before playing down the suggestion that cooperation over Iraq would significantly alter relations between the two countries.
"No-one should expect that all of a sudden, overnight, even if we resolve the nuclear agreement, that everything will change. It will not," the official said. "The fundamentals remain exactly as they are. Until we resolve the nuclear issue there cannot be any kind of fundamental change in this relationship."
In Iraq on Monday, the capital, Baghdad, remained outside the grasp of Isis. But the mayor of Tal Afar, a city of 200,000 people located 260 miles north-west of Baghdad, told the Associated Press that the insurgent group was in control there. A resident said militants in pickup trucks with machine guns and jihadi banners were roaming the streets as gunfire rang out.
Fighting in Tal Afar began on Sunday, with Iraqi government officials saying Isis fighters were firing rockets seized from military arms depots in the Mosul area. They said the local garrison suffered heavy casualties and the main hospital was unable to cope with the wounded.
There were fears that militants would carry out further atrocities in Tal Afar, which is ethnically mixed and made up of Shias and Sunni Turkomen.
Claims at the weekend that the insurgents had killed 1,700 Iraqi soldiers could not be verified. But pictures, on a militant website, appear to show masked Isis fighters loading captives on to flatbed trucks before forcing them to lie facedown in a shallow ditch with their arms tied behind their backs. The final images show the bodies of the captives soaked in blood after being shot at several locations.
Iraq's chief military spokesman, Lt Gen Qassim al-Moussawi, said the photos were genuine and that he was aware of cases of mass murder of captured Iraqi soldiers in areas held by Isis.
Tal Afar's capture came hours after Nouri al-Maliki, the Iraqi prime minister, vowed to retake every inch of territory seized by the militants.
"We will march and liberate every inch they defaced, from the country's northernmost point to the southernmost point," Maliki told volunteers joining up to fight the insurgents.